Welcome friends!
Thanks to my regular readers for visiting
and to those new friends stopping by from
The Old Schoolhouse Review Crew
for a glimpse into

Science and Math.com

's brand new
Algebra 1 Tutor

, volume 1~!
In addition to the above web page, you can also find Science and Math.com
on Facebook

in order to keep up with any news and info
on their many products,
including Amazing Science and
Mastering 5th Grade Math - Fractions~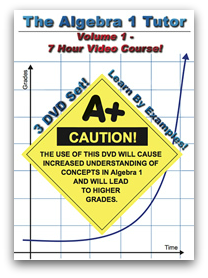 The Algebra 1 Tutor is
designed for kids in grades 7 and higher.
My son is an 8th grader, currently studying Algebra,
and we found the
product a true benefit.
I already know that when my younger son
is immersed in the study of Algebra in
three years, he'll not only be using this part 1 at the introductory level,
but that we absolutely will be investing in future Algebra programs
comprising the remainder of the course!
We love it that much!
Let me tell you a bit about
the program's components
and its pricing:
There are 3 DVDs within the Algebra 1 Tutor
which cove
these topics in a 7 hour course:
Disk 1


Sect 1 - Real Numbers And Their Graphs
Sect 2 - Fractions
Sect 3 - Exponents
Disk 2


Sect 4 - Adding and Subtracting Real Numbers
Sect 5 - Multiplying and Dividing Real Numbers
Sect 6 - Algebraic Expressions
Disk 3


Sect 7 - Properties of Real Numbers
Sect 8 - Introduction to Equations
Sect 9 - Solving More Equations
Sect 10 - Simplifying Expressions to Solve Equation

s
I was provided with the Algebra 1 Tutor on DVD
BUT
One might elect to buy the program download.
The Algebra 1 Tutor DVD is $26.99
while the Algebra 1 Tutor download program is $23.99.
In addition to the physical DVD and the download program
offered,
the purchaser will receive corresponding
worksheets through digital download means
or a CD.
Theses worksheets will need to be printed
in order for the student
to receive reinforcement of
the concepts to which they correspond on
the Algebra 1 Tutor.
How we used the program~
The fundamental, step by step
explanations offered throughout each clip are
clear, concise and offered solid assistance to us as
we journey through the landscape
of algebra, which can be confusing and overwhelming,
if not broken into manageable pieces of information,
as I'm sure you well know!
Since my son and I had already covered more than
half of the course material
by the time I was offered this program,
we used the Algebra 1 Tutor as a source of review ,
rather than an introduction to the concepts within.
I would love to have had the benefit of ScienceandMath.com's
truly wonderful program form the course's beginning,
but supplementing alongside specific topics that require
repetition with the program was certainly an asset.
I positively
came to rely upon the program as a
means of review/clarification.
Because the DVD menu clearly states which topics are
covered and in which order,
we had the opportunity to choose
where to
review and began to feel as if we had a personal tutor!
I found the practical application
offered on the worksheets to be extremely helpful.
We are definitely a drill and kill family of homeschoolers.
All the better if I can save time and energy by relying
on coordinated activities which correspond to the
video clip.
Who needs to reinvent the
wheel to reaffirm mastery
of operations with negative numbers,
isolating variables and so on.....
If you are currently tackling the teaching of Algebra to your
homesschooled high schooler,
I encourage you to further research the Algebra 1 Tutor as
a supplement to your math program.
For my Crew members thoughts, reviews and creative uses
of Science and Math's

Algebra 1 Tutor

, please visit
The

Schoolhouse Review Crew
right here:

thank you for stopping over and
spending some of your precious time here at my home on the web!
Don't forget to subscribe to Campfires and Cleats
by scrolling to the subscribe button at the top left sidebar.
I'd love to stay in touch regularly.