Mom at Rockaway Beach, Queens, circa 1940
February 8, 1921 ~ January 25, 2009
Mom passed into Eternal Life two weeks to the day before her 88th birthday.
My post,
Sentimental Journey
, is a short reflection on Mom's life and times.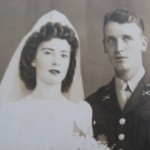 Shots of Mom with the boys on Christmas, 2008,
exactly one month before she passed.
I know there's grand party in Heaven tonight!
Until next time friends, peace,