How fun it is to connect with friends through recipe link ups
and in the process, swap tasty and practical recipes!
If you're clicking over from one of the recipe hop link ups, welcome!
By the way, friends, I have a book giveaway going on right now that I'd love for you to check out. Please click over to this post if you'd like, for details and entry!
Today, I'm sharing an outrageously yummy recipe that my hubby
found quite a few years ago and has since tweaked
so that it is now a favorite of all of ours......
Pictured above is the last muffin in the batch
that my hubby and older son made a few days ago..
they were all gobbled up, right out of the oven, before I could snap a shot!
~Blueberry Muffins~
1 c flour
1 tsp baking soda
2 tspn baking powder
1 C sugar
1/2 C vegetable oil
1 egg
1 and 1/2 c blueberries
Preheat oven to 350
Combine dry ingredients.
In another bowl, whisk, oil, egg. Add blueberries.
Place mixture in muffin tins and bake 30 min or so.
Serve warm with melted butter.
ENJOY!!
These are a breakfast and snack favorite around here....
I'm happy to link up with my friends who host these awesome blog hops...
their In and Out of the Kitchen hop.
Please check out their warm, inviting spots on the web, as well as the bloggers who've linked their recipes. You'll be very happy that you did!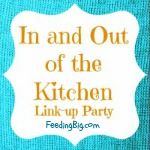 thank you for stopping over and
spending some of your precious time
here at my home on the web!
Have you signed up to receive my posts in your email inbox?
If not, just enter your email address here
so we can be in touch regularly!
You might wish to
follow on

Facebook
as well.....