Good morning friends and welcome to my corner of the web today!
A few wonderful blog hops brighten our mid week and help me keep
my family's homeschooling momentum going!
Sine this is Holy Week, with the exception of daily read alouds and independent reading,
piano and violin lessons and the kids' rehearsals at church
to prepare for the living Stations of the Cross on Good Friday
and choir hymns at the Easter vigil,
I have to say, we're taking a much needed break from routine this week.
We'll be resuming our rigor the day after Easter and plowing through the remainder of this school year's curriculum until we slow things up again around Memorial Day.
Well, that's the plan anyway.
Then I assess and tackle "what we really need to cover this year but didn't yet"
and administer their standardized tests.
June's routine is much lighter as we head into summer break.!
Yay!
In fact, I write about balance, checklists, laundry and grace this week
in my column at Catholic Lane.
If you're so inclined, go check it out, (thank you!) as well as the inspiration found there.
Seriously, the writers at CL hit one outta the park every time; I wonder how on Earth they publish me alongside these writers with teeth!
But they do and I'm honored.
I reprinted my column for
my Memoir Monday post yesterday
( yup, running a bit low on time! )
Blogger friends, please look into
my Memoir Monday hop
and consider linking up!
I'd love it if you shared your stories with us in the hop!
A few of my blogger friends have linked such amazing reflections
and I am flattered that they did so......
So, my recipe share for this week~
Lemon Poppy Muffins
Our family is getting set for the baseball season, which begins the weekend after Easter. We're a three sport family and very active in our CYO.
Soccer in Fall; basketball in winter and baseball in spring.
Two boys generate lots of mitts, bats, helmets,
mud, dirty uniforms,
game and practice schedules and yes, cleats...
You know the drill. We're all happily in the same boat!
And so, we need simple, filling and nutritious foods.....
S
ince
we're at the field for many hours
every Saturday from beginning of April until end of June,
we've found these muffins to be a great breakfast/snack staple.
Making our own is easier, cheaper and less time consuming
than stopping at 7-11 or a deli for a pick-up breakfast.
They're tasty and easily stored in the cooler with
some fruit and water bottles on the hot baseball field.
We also rely on my hubby's
blueberry muffins
as well as my Irish soda bread recipe, which I'll be sharing soon.
There are a lot of ingredients, but
you know I'm all for simplicity:
2 cups all-purpose flour

1/2 teaspoon salt

1 1/2 teaspoon baking powder

1/4 teaspoon baking soda

1 stick (1/2-cup) unsalted butter, softened

1 cup white granulated sugar

finely grated zest from 2 lemons

2 large eggs

2 tablespoon lemon juice

2 tablespoons poppy seeds
Mix flour, salt, baking powder, and baking soda in a bowl.
In a mixing bowl, beat the butter, sugar, and lemon, until light and creamy.
Beat in the eggs one at a time, mixing thoroughly.
Stir in flour mixture; then add lemon juice and
poppy seeds.
Pour into muffin tin; place in preheated 350 degree oven for 30 minutes or so.
I'm happy to link up with my friends who host these awesome blog hops...
for their In and Out of the Kitchen Hop, as well as
for some wonderful treats!
Please check out their warm, inviting spots on the web,
as well as the bloggers who've linked their recipes.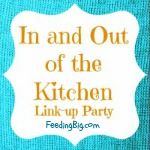 (You know, in the "draft," these badges are all laid out beautifully. Then I hit
"publish" and this happens! Yikes)
Thank you for stopping in !