Good morning friends!
Love a Tuesday! How fun it is to connect with friends through recipe link ups and in the process, swap tasty and practical recipes! If you're clicking over from one of the recipe hop link ups, welcome!
I'm sharing my hubby's recipes for garlic knots and dipping sauce. He often does not have the time ( or ambition) to make them, but when he does, it's a treat!
The knots
in a piece of our wedding china set.
Love this bowl
It's part of a small set that
belonged to my hubby's mom.
Very sentimental
Here goes:
Dough:
3/4 C warm water
1 package active dry yeast ( 2 tspn)
1 3/4 C flour
1 tbsp olive oil
1 tspn salt
Sprinkle yeast on top of warm water and let it sit. Stir until it gets a bit frothy.
In a large bow, whisk flour, salt. Pour in oil, then yeast/water mixture.
Mix to form a soft dough and then knead for 5 minutes.
Put in bowl, cover with plastic wrap and set at room temp to rise.
~When dough has risen~
Set out large baking sheet. Work dough into strips about 5 in by 1 in. then into a "snake" shape; then form into a knot.
Brush with :
Garlic butter mixture:
5 tbsp butter
2 cloves minced garlic
1 tsp salt
Place in oven preheated to 400 for 12-15 min
Here's the absolutely delish dip~
Marinara sauce:
2 tbsp oliv
e oil
3 close garlic, minced
1 28 oz can crushed tomatoes
2 tbsp dried oregano
2 tbsp dried parsley
1 tsp onion ( or onion powder)
Saute garlic, stir in tomatoes, followed by other ingredients. simmer for 40 min. We hope you LOVE the knots and sauce!
I'm happy to link up with my friends who host these awesome blog hops...
their In and Out of the Kitchen hop.
Please check out their warm, inviting spots on the web, as well as the bloggers who've linked their recipes. You'll be very happy that you did!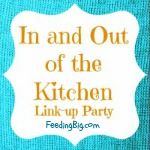 I'd like to share with my readers who may be clicking over for a recipe hop that I host a hop called "Memoir Monday," which I'd love you to join in! Click here for some details as well as previous Memoir Monday posts. And please join us when you can.
Oh, one last thing~ Previously, I shared a yummy hot cocoa recipe; even though the calendar reads "March," it's still pretty darn cold.... So click over if you'd like to check it out.
Thank you friends, for stopping in !
Have a wonderful day!
Until next time,
~Chris