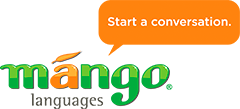 Bonjour!~
Welcome and thanks for stopping by!
You've most likely heard of
Mango Language
s.....
As a curriculum junkie, I certainly had!
And all good things, too.....
As a member of The Old Schoolhouse Review Crew,
I was privileged recently to use and review
their latest endeavor,
a foreign language program,
intended for ages 6 through to adulthood.
and geared toward
homeschoolers,
Mango Homeschool
,
Here's a peak at a language
(that we did not study) through Mango: Latin:
A couple of screenshots so you can see how attractive
and friendly the translations
and forums are.~~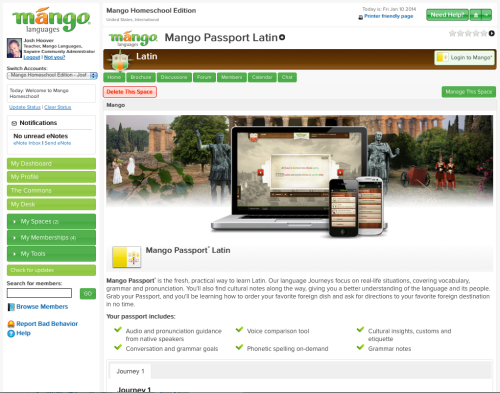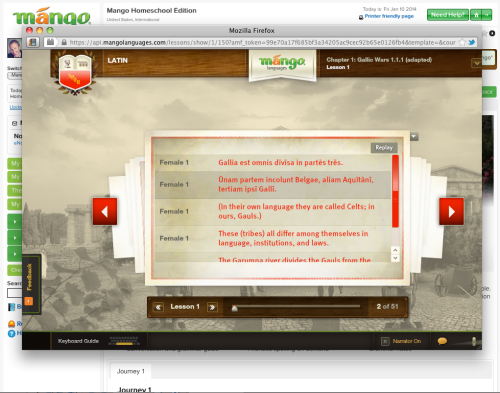 Intriguing, no?
User friendly.
Kid friendly.
Colorful.
Clear.
~How we introduced the program in our homeschool~
Initially, the plan was for each of my kids to study a language using Mango.
However, only my younger son was able, due to our schedule constraints,
to utilize the program.
He's been quite interested in learning French;
so, voila!
We were able to accommodate his interest level
and boy, was he excited!
Incidentally, Mango provides study of
Canadian French as well as European French.
He knew the version he wanted
(European!)
But given that we vacation in the Adirondacks
for a week each summer
and cross paths with many tourists from Ontario,
our curiosity was piqued to check out
the Canadian component as well...
but we did stick with his first choice.
~A Study of the Country and its Culture~
Before the French language was actually introduced, I wished to
provide a bit of background on the country, culture and people of France.
My son auditioned for and was granted a couple of
call backs for a role in Les Mis, at a local community theater last summer.
Resources we used to prepare

for his
audition, musically and historically,

are here

.
So the groundwork and fascination with the country,
as he researched the part of Gavroche and
pre French Revolution France was already established.
Alas, he did not get the role.
But learning about Victor Hugo and
the transference of his masterpiece to the stage was, of course,
not time wasted!
Here are other resources we utilized to learn more about
La Belle France before embarking on the study of la langue:
National Geographic France for Kids
France Facts for Kids
Time for Kids: France
~Geography resources~
Political map of France
Political map of Europe
Physical map of France
Physical map of

Europe
Printable flag of France
~ Getting Started with Mango ~
Mango offers several extremely helpful videos through Vimeo ,
which guide
new users through creating and linking accounts and
navigating the system.
Josh Hoover, Community Director,
exhibited an infectious excitement toward the program through these videos.
How we used the program in our homeschool~
My son, an 11 year old 5th grader,
used

Mango Homeschool France

several times per week.
The program was enticing in terms of the novelty and excitement around the
language study.
Because my son is dyslexic,
we found the auditory nature and repetition
of the lessons to be quite beneficial.
However, while the repetitive drill and
translations in each "chapter" and slide are
vital for language acquisition
and proper usage, the program lost its appeal for both my son and me.
This truly is not a fault of the program;
it simply did not work well with
my style of teaching and his style of learning...
though he did internalize certain elements of basic French conversation.
I plan to revisit Mango Homeschool French
in the foreseeable future with a renewed perspective.
I reviewed a beta version of Mango, however,
here is what's currently available on the site:
*Over 60 different languages
*Progress Assessments

*Built-in journals, discussions and wikis
*Collaborative learning spaces
*eNote messaging
/chat rooms

*Access to embedded/downloadable content
*
Support from other community members

*Calendars to schedule meetings or study groups
Benefits of the Mango program~
There are so many, but I found these to be notable:
Because Mango Homeschool is set up as a forum,
wherein
users who are studying the same language
are able to interact with one another,
practical conversational use as well as questions regarding the language
may be discussed.
Additionally, Mango works on any operating
system and is not dependent on any one specific system
or any special equipment.
(Though users do not the updated version of Adobe.)
Should you need to exit the program in the middle of a lesson,
your progress is saved.
You will resume at that point in the lesson,
upon logging in the next time.
Users can switch between numerous languages, tackling as many
at one time as they'd like.
The support is positively phenomenal.
I emailed a question about navigating the forum
to Josh, who replied
helpfully and thoroughly,
in a blink.
~
Mango Homeschool's Future Offerings~
Mango is still developing certain components of their program
and wil

l be
introducing other exciting features over
the next several months such as ~~
*Enhanced Tracking and Progress Monitoring
including seat time (for students and parents)
*Goals and Personal Lesson Plans
(both stand-alone and tied into Mango courses)

*Resume and Portfolio Builder
* "Conversations," a section which will include quizzes and
additional foreign languages.
~Mango on Social Media~
For your
further research and perusal,
I encourage you to
connect with Mango.
Mango Languages can be easily found on social media:
~Pricing~
Mango's introductory pricing.:
$18/month or $125/year total



2 subscriptions ~
$28/month or $175 /year total



3 subscriptions ~
$38/month or $225/year total



4 subscriptions ~
$48/month or $275/year total



5 subscriptions ~
$58/month or $325/year total
6 + subscriptions~
group rate, dependent on number in the group.
It was a privilege to benefit from Mango's
Homeschool Program and I do hope if
you're contemplating foreign language
study in your homeschool,
that you consider Mango.
thank you for stopping over and
spending some of your precious time here at my home on the web!
Don't forget to subscribe to Campfires and Cleats
by scrolling to the subscribe button at the top left sidebar.
I'd love to stay in touch regularly.
For

Crew members' reviews

, thoughts and
creative uses of Mango Homeschool, please visit
The Schoolhouse Review Crew web page

~