and the darkness comprehended it not."
~John 1:5
Welcome!
I wish regular readers and new visitors who may be stopping by from
TOS Egglo Entertainment review linky
, an enjoyable stay!
I was recently provided the privilege to use with my kids
and review Egglo Entertainment's
unique new products,
Glow in the Dark Eggs and accompanying book,
The Egg-cellent Easter Adventure,
also
offered
in

book audio download version

,
which is cleverly written and grabbed
the attention of my
11 year old by page one.
After we dye our eggs as a family on Holy Saturday,
he asked if we can read the book again;
he's no stranger to quality lit and he l-o-v-e-d the characters
and their discoveries!
I have a feeling that kids everywhere will find the story
enchanting, as it illustrates
the message of Easter salvation
.
The Egg-cellent Easter Adventure Program Guide
is a 60 page guide which provides tips for church groups
that wish to use the eggs in staging an event around Easter celebrations.
I found the guide intriguing and chock full of amazing ideas and guidance,
though we did not actually use it with our parish.
Here are a couple of shots of Egglo's product ...
As you see, they are enticing, illuminated or not!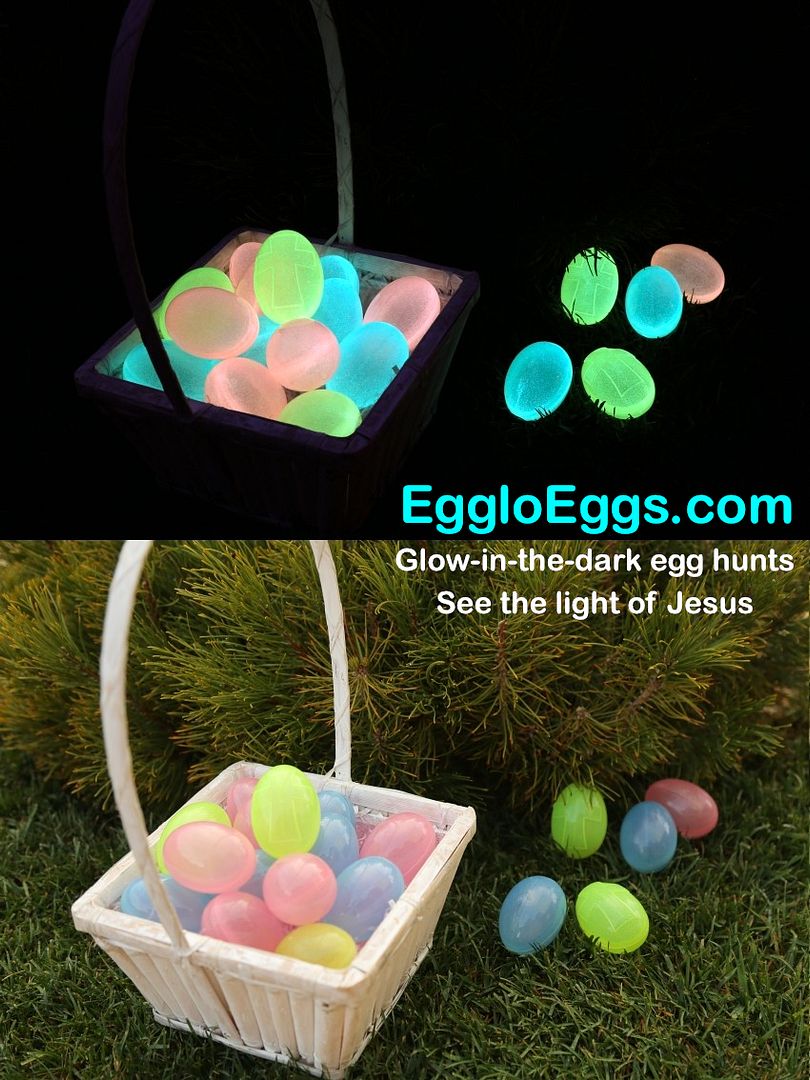 In addition to the eggs and the adorable picture book,
Egglo offers their

Treasures Scripture Scroll

s, a package
of which contains 12 scrolls, each with a different scripture verse,
from both Old and New Testaments.
~How we used the Egglos Eggs in our homeschool~
Sure, the initial desire to weave the eggs into Easter fun
and Lenten family activities is quite exciting!
However, because I was afforded the opportunity to
adapt the eggs into any part of our
Spring curriculum ( and because the review is
requested a month in advance of Easter!)
I am also enhancing our study of
several holy days/ holidays
in March
and using the eggs as one way to bring a smile to
of each of my kids' faces on any given day.
The eggs helped ar
e a tool
which helped me weave scripture and specialness
into our catechism and our family life recently~~
Scripture verses related to each holy day will
be inserted into
the eggs and opened throughout those days,
placing them by each of our plates at meals,
as we read, discuss and pray around each
and before we read our daily Lenten - related books,
which I discuss in

this post

.
And here are some of the Bible verses around these
days which I copied onto pretty
pastel pieces of paper to be discovered in each egg:
St Patrick's Day ( March 17)
You wouldn't know it from my last name,
but this blogger is 100% Irish,
the granddaughter of Irish immigrants.
And darn proud of it.
Though my kids are only 1/2 Irish
<sniff>
we celebrate with food, fun and prayer on March 17.
As we read about the heroics of St Patrick, the myths and the legend,
the man who is credited with creatively and patiently
explaining the
doctrine of the Holy Trinity by comparison with
shamrocks at his feet as he preached.
We will also enjoy these verses lit up and discovered within the
Egglo Eggs:
"Blessed is the nation whose God is the Lord;
and the people whom he hath chosen for his own inheritance."
Psalms 33:12
"And all these blessings shall come on thee, and overtake thee,
if thou shalt hearken unto the voice of the Lord thy God."
Deuteronomy 28:2
And a verse relevant to the Trinity:
And it came to pass in those days, that Jesus came from Nazareth of Galilee,
and was baptized of John in Jordan.
And straightway coming up out of the water,
he saw the heavens opened ,
and the Spirit like a dove descending upon him:
And there came a voice from heaven, saying,
Thou art my beloved Son, in whom I am well pleased.
Mark 1: 9-11
St. Joseph's Day ( March 19)
This beloved painting
by
Guido Reni in the 1620s,
is one which epitomizes St Joseph's
devotion to his Son
and which has personally inspired me to call on him countless times to
intercede on my behalf as I pray
for my dad, my husband and for my own sons,
who will, hopefully, be fathers one day.
"St. Joseph with Infant Christ in his Arms"
is displayed in the
Hermitage Museum

,
St. Petersburg.
We also, as a family, pray the

St Joseph Novena

, which is began nine days
prior to "the Guardian of the Redeemer's" feast day
You can STILL join in
even though the novena
began yesterday!
Please

click here

to receive email reminders
and learn more about this great intercessor and humble man!
Here are a few Bible verses which will be inserted into
our Egglo eggs to illuminate our prayer and readings of
St Joseph, the patron saint
of fathers:
"This is how the birth of Jesus Christ came

about: His mother Mary was pledged to be married to Joseph, but before they came together, she was found to be with child through the Holy Spirit. Matthew 1:18
Because Joseph her husband was a righteous man and did not want to expose her to public disgrace, he had in mind to divorce her quietly.Matthew 1: 19
But after he had considered this, an angel of the Lord appeared to him in a dream and said, 'Joseph son of David, do not be afraid to take Mary home as your wife, because what is conceived in her is from the Holy Spirit. Matthew 1:20
She will give birth to a son, and you are to give him the name Jesus, because he will save his people from their sins. Matthew 1:21
And lastly, take a look at this lovely
St Joseph's Day wood craft
The decoupage crafts turned out lovely, no?
You can easily and quickly print colorful pictures, order

wooden plaques
online, as well as some

mod podge

,
and you're all set!
Enjoy that beautiful artwork
in honor of St Joseph!
The Annunciation of our Lord's Birth ( March 25)
The lovely prayer known as The Angelus, which has fallen
out of favor in recent years, contains
parts of the powerful prayer to
the Blessed Mother, the Hail Mary.
It can be written line by line and inserted into the
eggs to be discovered on this feast day when Gabriel
announced Mary was with Child.
We will read scripture around Mary's YES while the eggs glow!
The Angelus Prayer is:
The Angel of the Lord declared to Mary: And she conceived of the Holy Spirit.
Hail Mary...
Behold the handmaid of the Lord: Be it done unto me according to Thy word.
Hail Mary...
And the Word was made Flesh: And dwelt among us.
Hail Mary...
Pray for us, O Holy Mother of God,
that we may be made worthy of the promises of Christ.
Let us pray:
Pour forth, we beseech Thee, O Lord,
Thy grace into our hearts; that we, to whom the incarnation of Christ,
Thy Son, was made known by the message of an angel, may by His Passion and Cross be brought to the glory of His Resurrection, through the same Christ Our Lord.
Amen."
Some interesting information around
who "wrote" the Hail Mary,
how this prayer came to be and the Annunciation itself
can be found

right here

.
Friends, this is surely a product that you will want to investigate further
to brighten and enhance Easter festivities!
The myriad of ways in which these little glowing eggs
can be utilized to spread knowledge and awareness of Our Lord's message?
Unquantifiable!
Thank you for spending some of your precious time today
here at my home on the web!
Have you signed up to receive my posts in your email inbox?
If not, just click here to
quickly and easily

so we can be in touch regularly!
You might wish to
follow on

Facebook
as well.....
In this way, I will receive a small commission on the purchase.....