A gathering of thoughts, links I love,
news highlights, funnies
and / or
the latest goings - on here at the blog.
Sort of a weekly dumping ground of updates and features.........
First of all, The Big Day is two days away and
there is still time to make use of
.......from movies, to kitchenware to bling to books to
all things for the traveler, the kids, the hubby, the teacher.......
Click on over and

check it out

!
Please welcome my newest sponsor!
Study.com's

comprehensive

CLEP prep
An in depth look at the wealth of programs and courses
study.com offers is coming up soon here at the blog....
for now, those readers with high school age kids might like to be
aware of this wonderful resource!
And here's a special JUST for my readers
offered by the generous folks at study.
com:
Coupon code: CAMPFIRESANDCLEATS
20% off for the first 3 months' subscription
Must be redeemed by 4/15/2018
A dose of funny for ya~~~~
Watching the Olympics much this week?
We're catching a few favored events.....
The figure skating's been jaw dropping....
Here's America's

absolutely amazing

,
Mirai Nagasu
making history.....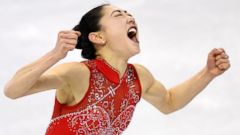 Exciting stuff!
There's so much conflict and tragedy in the world
that enjoying feats of athleticism have been wonderful!
💜
For all my friends and readers....
I love you.
Even if you're not a

LOST

ie!
Enjoy
💜
Thank you for spending some of your precious time today
here at my home on the web!
Have you signed up to receive my posts in your email inbox?
If not, just click here to
quickly and easily

so we can be in touch regularly!
You might wish to
follow on

Facebook
as well.....
In this way, I will receive a small commission on the purchase.....